by Tina Tomkins, Screenflex
What would be the best way to give education students an opportunity to teach in a real classroom right on their own campus?
Ann, a professor at Mayville State University in North Dakota, decided to set up four classrooms where her students could experience teaching 4th grade students. In order to run her program, Ann needed four classrooms but had only one large classroom.
This is what Ann was looking for:
Four portable classrooms within one space
Portable dividers or walls to create the spaces
Product that is easy to set up and easy to fold up
Minimal amount of space required to store dividers when not in use
A place to display on (surface to tack or staple on)
Ability to cut distractions and noise from the other mini classes
Screenflex's FREEstanding portable partitions met all of the objectives required to run the mini classrooms, so Ann purchased four 6′H x 9′ 5″L partitions from SCHOOLSin.
Each day, the student teachers set up their classrooms. Four rooms are created using four portable dividers. The dividers work well to keep the four groups separate, which cuts down on distractions from the other groups. Student teachers love the flexibility of the dividers and can easily pull them open to create the rooms. They also find that displaying interactive bulletin boards is a cinch with their Screenflex portable walls.
On average, twenty-one 4th grade students participate in this field study program. Students come from Peter Poe's Elementary School and are taught by student teachers for a two-week period. Each mini class accommodates three teachers. The primary 4th grade teacher selects the chapters they want the kids to learn from, and most of the teaching is very hands-on. Kids get to erupt volcanoes in science and play on real instruments in music. Both 4th graders and student teachers benefit from this program.
When I asked Ann what she and the student teachers liked most about the Screenflex dividers, she said, "The dividers are easy to move. Student teachers can easily put the dividers together, and they bend nicely and fit our needs. Kids are blocked off, which works well for distractions. Dividers are portable, and they are easy to store. We don't have a storage closet for the dividers, however they fold up nicely and don't take up much space. We store them right in the classroom."
This is a perfect example of how Screenflex room dividers can be used for more than just dividing a classroom. Displaying art work, creating bulletin boards and creating a visual/sound barrier are just some of the ways to use room dividers.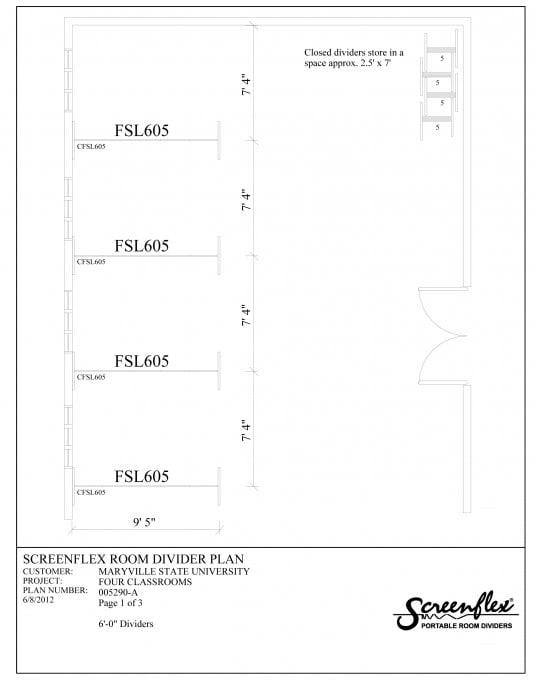 Tina regularly writes about room dividers, utilizing space efficiently, and office fun at Screenflex Room Dividers. You can also find her on Screenflex's Facebook page and Twitter.